Solving a Crisis
Bauer Hosts Inaugural MBA Crisis Case Competition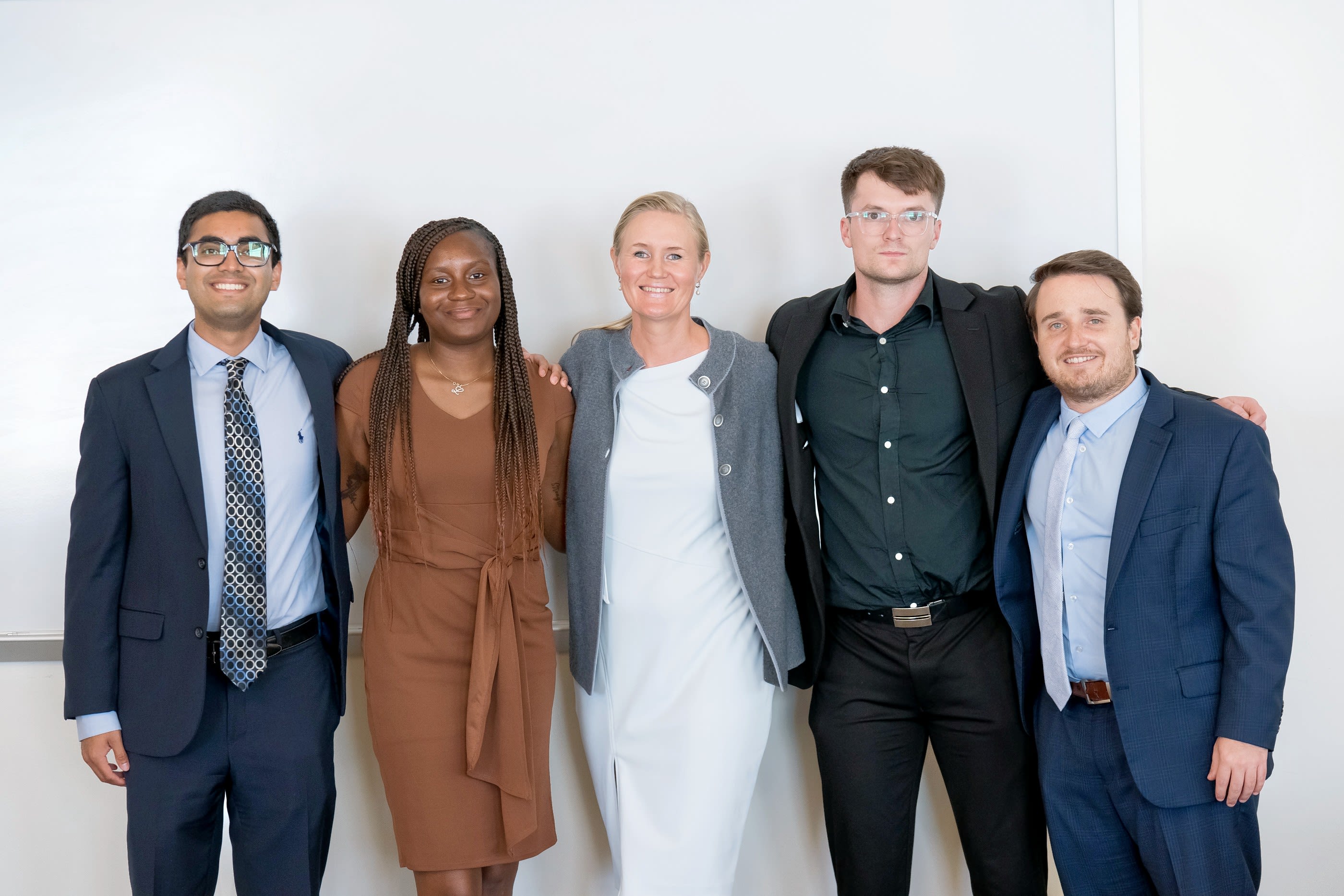 This fall, MBA students from the C. T. Bauer College of Business at the University of Houston were challenged to address a corporate crisis head-on during the inaugural MBA Crisis Case Competition.
The competition required teams of students to operate in the role of corporate executives, presented with a crisis of a fictitious company they lead, working overnight as new updates to the crisis were revealed to prepare a presentation of solutions for corporate judges.
In the scenario, student teams led a bottled water company called AguaClara Global Beverages, based in Minot, N.D., and had to navigate a mock crisis situation: the water supply had been contaminated, sickening residents and leading to the death of a child.
The event was sponsored by The Finger Companies real estate consultant Elaine Finger (BBA '92) and UH System Regent and Cameron International Corporation former CEO and Chairman Jack Moore (BBA '77), both members of the Bauer College Board.
"That's real life

—

fast adaptations. There is no time to run every scenario. The students were surprised it was so difficult. I liked that it was as real life as we could make it."
"Our team addressed both reputational and operational crises at the same time, but the main question was, 'Were we as a firm responsible for this crisis?' We had to regain the trust of the public and at the same time ensure the operational integrity of the firm's equipment and processes," Full-Time MBA candidate Abid Middya said.
Middya and teammates David Hoffman, Katerina Zhukova, Enrique Saavedra and Lauryn Stovall earned first place for their proposed solutions, which included a reduction in the company's water pumping rate and placing 300 employees on part-time status. They also proposed to provide free cases of bottled water to the public as a gesture of goodwill while the crisis was ongoing.
"Over the last year, Bauer helped us prepare through its extensive list of courses ranging from supply chain, finance, accounting and marketing. Bauer expanded our horizons in multiple areas that we were not familiar with, but these experiences translated well into real-life or simulated situations like this case competition," Middya added. "Additionally, the diversity of the Bauer student body allowed us to leverage many different points-of-views for the competition as we had engineers, consultants and marketing-minded students all come together to deal with a crisis which has happened in reality multiple times."
Bauer College Board volunteers provided firsthand feedback and insight to the MBA student participants.
"The competition kept the students on their toes," Finger said. "All of the Bauer College Board volunteers had all been in crisis situations, so we knew what could happen. The students were a bit ruffled, but I think they went away from the competition with a real sense of immediacy when a crisis hits."
Finger added: "It was important for me to sponsor this event as I'm all about student success. I saw this as a great way for them to learn. Our questions were difficult and demanding. The students were surprised, but they were able to regroup. That's real life — fast adaptations. There is no time to run every scenario. The students were surprised it was so difficult. I liked that it was as real life as we could make it."